LASIK Surgery (iLASIK)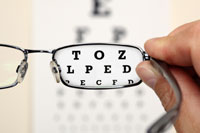 Many improvements have been made in LASIK procedures since they were first introduced years ago. Among the newest and most advanced is iLASIK, which incorporates Femtosecond 200 and Allegretto Wavelight IQ technologies for the best possible vision enhancement.
Also known as bladeless LASIK, the Femtosecond 200 all-laser procedure eliminates the need for a metal blade during surgery, helping bring clear vision to many people who feel uneasy about going "under the knife" during LASIK.
The state-of-the-art Femtosecond 200 technology replaces the microkeratome blade that has traditionally been used to cut the necessary corneal flap during laser vision correction procedures. Rather than creating the flap with a blade, Femtosecond 200 uses laser energy to make a quick, painless incision. By replacing the hand-held blade with a computer-controlled laser, the risk of complications is virtually eliminated.
The Allegretto Wavelight® IQ laser for refractive surgery uses wavefront-optimized ablation profiles, which reduce the risk of formation of spherical aberrations in the peripheral cornea (causing difficulty with night vision and/or middle-distance focus) during surgery. The Allegretto laser's high resolution makes possible the creation of exceedingly precise corneal curvature, while many of its other features (fast video-based closed-loop eye tracker, easy-to-use calibration, closed-loop energy control) allow the surgeon to focus his or her attention on the patient, rather than on the equipment. This technology protects the quality of vision while adding a new level of safety.
The Benefits of iLASIK
Because of the low risk of complications and high level of precision it provides, bladeless LASIK treatment has become the standard of care among leading LASIK surgeons and ophthalmic teaching institutions worldwide.
Compared to methods that use a microkeratome blade, this minimally invasive and incredibly precise procedure decreases the occurrence of partial flaps, holes in the flap, and other traumatic flap complications. Of the hundreds of thousands of iLASIK procedures that have been performed globally to date, there have been no reports of any serious or sight-threatening complications.
Am I a good candidate for iLASIK?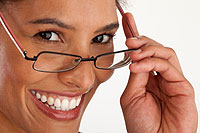 An eye exam is required to see if you are a candidate for laser vision correction. Candidates must be at least 18 years old to ensure that their eyes have matured. Also, vision must have remained stable without an infection or injury for one year prior to the surgery. Ideal candidates for iLASIK surgery do not suffer from dry eye syndrome or any autoimmune disorder such as lupus or Sjogren's syndrome, and have no scarring on the cornea.
How iLASIK Works
The laser uses quick pulses (a quadrillion per second) of laser energy to create the flap in the cornea needed to correct refractive problems. The computer-guided laser pulses travel through the outer layers of the cornea, moving back and forth across the eye to create microscopic bubbles at a specified depth. The bubbles under the cornea eventually create a perforation. The surgeon is then able to gently separate the perforated tissue to create a flap, allowing him to continue with the laser vision correction procedure.
Because the laser is guided by a computer, the procedure is carried out with extreme precision and creates the optimal depth, position, and diameter for the flap specific to each patient. The entire process of creating the corneal flap takes about 30 seconds.
After the iLASIK Procedure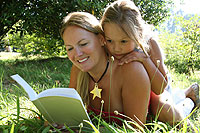 Discomfort is usually minimal following iLASIK. You can expect to notice a significant improvement in vision the very next day. Most patients are able to resume normal daily activities, including driving and returning to work, at this time. You should, however, avoid using any eye makeup for three days following the procedure and avoid swimming and rubbing your eyes for two weeks.
Some patients experience increased sensitivity to bright light in the weeks following iLASIK. Patients sometimes also report seeing halos around lights at night. On occasion, patients may experience dry eyes and require eye drops to increase moisture. These symptoms typically decrease shortly after the surgery.
Follow-up visits are required to make sure that the procedure went well and your vision remains crisp and clear.
Risks
The iLASIK procedure has proven to be extremely safe and effective. Nevertheless, no surgery is entirely free from risks and complications. Some patients experience light sensitivity. This is often temporary and can be successfully treated using steroidal eye drops for a few weeks. Also, inflammation can occur in the cornea. Though microscopic, this swelling can lead to blurred vision. This should correct itself over time. Dry eyes may also be experienced, in which case eye drops may be recommended to lubricate the eyes.
---
PRK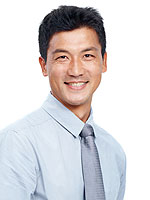 PRK or photorefractive keratectomy is one of the safest and most time-tested laser vision correction procedures available. Before LASIK, PRK was the most common refractive surgery procedure. Like LASIK, it reshapes the cornea to improve vision. PRK is now used mainly for patients with large pupils or thin corneas.
The first step in PRK is to remove the epithelium, a thin layer protecting the cornea. Then the surgeon uses an excimer laser to vaporize a small amount from the top of the cornea. LASIK, by contrast, cuts a deep flap in the cornea. This can weaken the cornea and sometimes make it difficult to replace the flap in precisely the right place, and can cause other complications including flap irregularity, epithelial ingrowth and corneal ectasia. PRK avoids these risks.
Studies have shown that 90-95% of patients with a correction of up to -6.00 diopters achieve vision of 20/40 after PRK, and up to 70% achieve 20/20. Patients needing less correction generally achieve better results. The risks of PRK include infection, haze, slow healing, scarring, over- or under-correction of the visual condition, and development of astigmatism.
---
To learn more about our LASIK Surgery (iLASIK) & PRK Services, please contact us at (318) 746-2020 today to schedule an appointment.